The scheduling and shorter journey for the participants were the reason for Markus Hostettler 2019 to move the respiratory protection module 3 (operation) of the Swiss Fire Service Association (SFSA) from Andelfingen to Balsthal. Not an easy task for the course manager, because differences between the training facilities influence the course of the training.
Training programme for 2020 already adapted
---
"You can not transfer a lesson directly from one training centre to another," Markus Hostettler explains the starting point for the course in Balsthal. If a drill is planned at ground level, but the participants now have to advance to the third floor of the Pyrodrome, this not only changes the strains on the firefighters. "Of course we also have to adjust our timetable." For summer 2020, he implemented his experiences from the pilot course in Balsthal and at the same time kept the basic framework.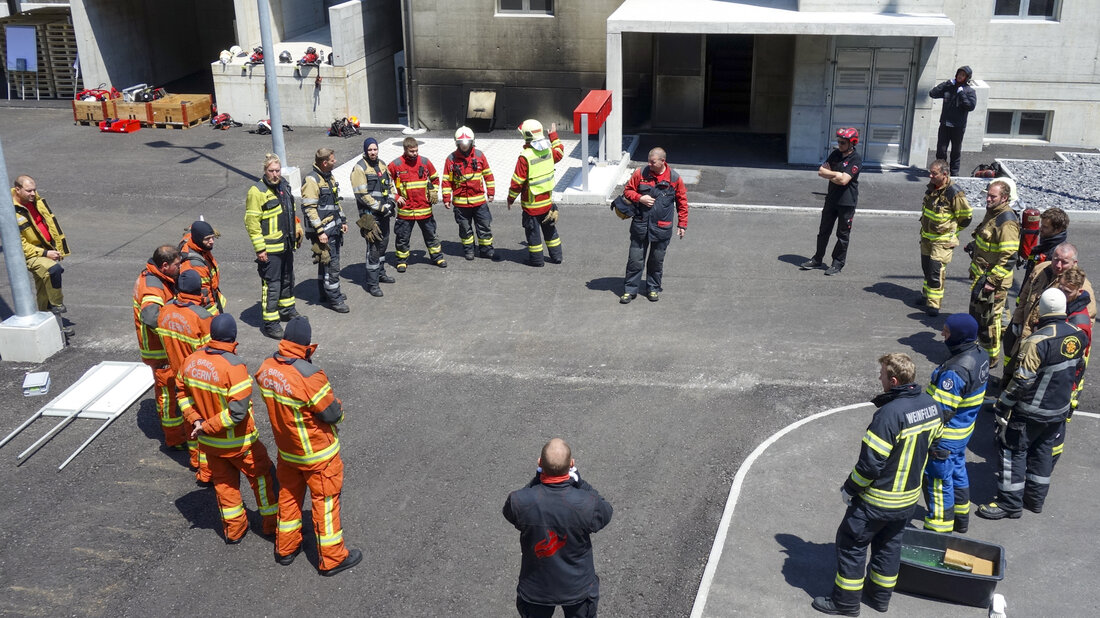 Giving space for new experiences
The four classes of eight participants are divided into four stations: the Flashover training facility, the Pyrodrome, the underground car park in the training car park and the firehouse Q. The training facilities already suggest that this training will be advertised for experienced emergency personnel. The drills take place under realistic conditions. Various firefighting techniques are to be used and, if necessary, offensive ventilation tactics will be carried out. This is not about "the" right solution, but about trying out possible options.
Reflection is as important as the drill
Immediately after each round, the sequence is analyzed. Participants and instructors should contribute their impressions and, if necessary, compare them with previous deploayments. This has a double effect in a favorable case: The participants benefit from each other's descriptions and become aware of their own experiences. This can support falling back during operation on important findings.
Communication is a key factor in managing the training scenarios

In the respiratory protection module 3 (operation), the participants with their individual experiences are part of the course concept.
Three courses at the Intercantonal Fire Service Training Centre
---
The SFSA offers in 2020 a total of three courses at the location of the Intercantonal Fire Service Training Centre in Balsthal. In each case, the infrastructure is booked as for the described respiratory protection module and the training is carried out with its own instructors.
Experiencing vehicles with an alternative drive is the topic of the SFSA course for extrication.

The participants learn to assess the possibilities and risks of mobile fan use in the SFSA special course.
The topic of extrication is about vehicles with alternative drive. The operation-relevant features of electric, hybrid, LPG and hydrogen propulsion are explained on corresponding vehicles.
In the special course on ventilation, the use of various mobile fan types is practiced in the underground car park, in the theme park, in the Pyrodrome and in the administration building of the Intercantonal Fire Service Training Centre.