Two topics dominated the feedback from the firefighters from Belgium who completed the one-and-a-half-day intensive underground car park course at our training car park: tactical ventilation and hose management. Many things were new and good for the participants, which they are now evaluating for further training at home.
Let the air work for you
---
«We learned a lot, especially about ventilation: How important it is and how to ventilate effectively.» Several comrades echoed this statement by Joel Ervens. Sidney Legrand commented: «One tends to be too impatient with ventilation and wants to push as hard as possible. Here we had the opportunity to see that letting the air currents work a little more and disturb them a lot less, it opens up just as many possibilities.»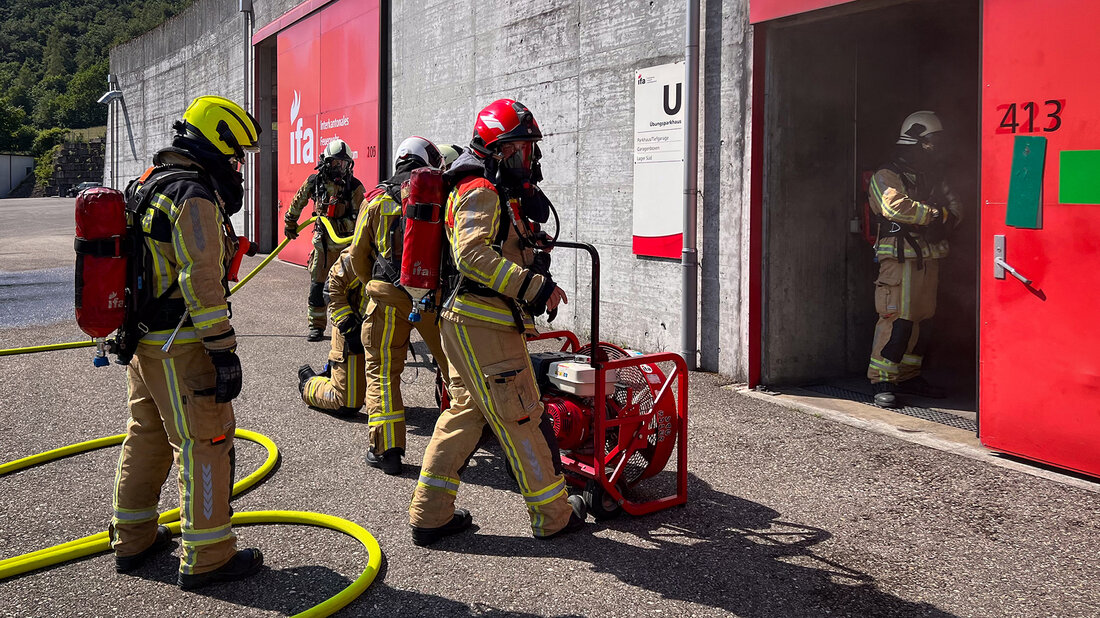 Among other things, the course participants had the opportunity to create a ventilation concept for a scenario in the training car park and to test it 1:1. In the drills, they implemented different options for tactical ventilation. What was new for many was the approach of ventilating via the stairwell of the underground car park and pushing the smoke out into the open via the carriageways.
First, ventilation concepts were developed and then tested in practice.

Hands-on experience: How long does it take for the airflow to stabilise and take effect?
Alternative hose management techniques tested
---
«So many different techniques when laying the hose lines - it gives us more options in the field,» adds Philip Kerckhove. For some, entering the building with a charged hose was a new variant. Overall, the participants welcomed «the pace and the number of drills» in which they could «assume different roles, experience different scenarios», and in the process learn and try out new things again and again.
Good hose management is crucial for the safety of the firefighters and the success of the operation.

Besides hose management and tactical ventilation, the fire attack is the focus of a detailed lesson.

19 firefighters from Belgium used our intensive course to prepare for underground car park operations
Courses for 2024 advertised
---
For fire services that would like to send individual instructors or officers to our intensive course on underground car parks, two suitable courses have been advertised for 2024. The details and dates are published on our website.