The instructors carefully observe their students in the training tunnel. They assess their level of education and give precise, short feedback after the joint reflection of each course unit. It is precisely this exchange that brings momentum to the training: The instructors respond individually to their students and at the same time, ensure a uniform training. This requires a clear training concept and regular readjustment.
Training is a dynamic process
---
The training is not a one-sided conveyance for the instructors. Rather, they themselves are both teachers and learners. With each course, they gain additional information that may be relevant to their training activities: They learn a lot about possible errors in reconnaissance, search & rescue, firefighting and they experience how individual firefighters react to the challenging scenarios in tunnels. Despite this diversity, it is their task to limit themselves to the essentials, because practice as a benchmark obliges them to simple, comprehensible processes and explanations.
In this area of tension between individual support and uniform training, details in conveyance can shift over time. This is another reason why all courses are accompanied by full-time instructors from the International Fire Academy. «We define a benchmark for how we want the training to be. And then we keep our eyes and ears open with each training and assess whether the focus of each lesson is properly taught,» explains head of training Marianne Wernli. This is particularly important with regard to a possible deployment: If the procedures are coordinated, and even members of another fire service can be expected to take certain actions in a complex tunnel operation, this contributes to the safety and confidence of all emergency personnel.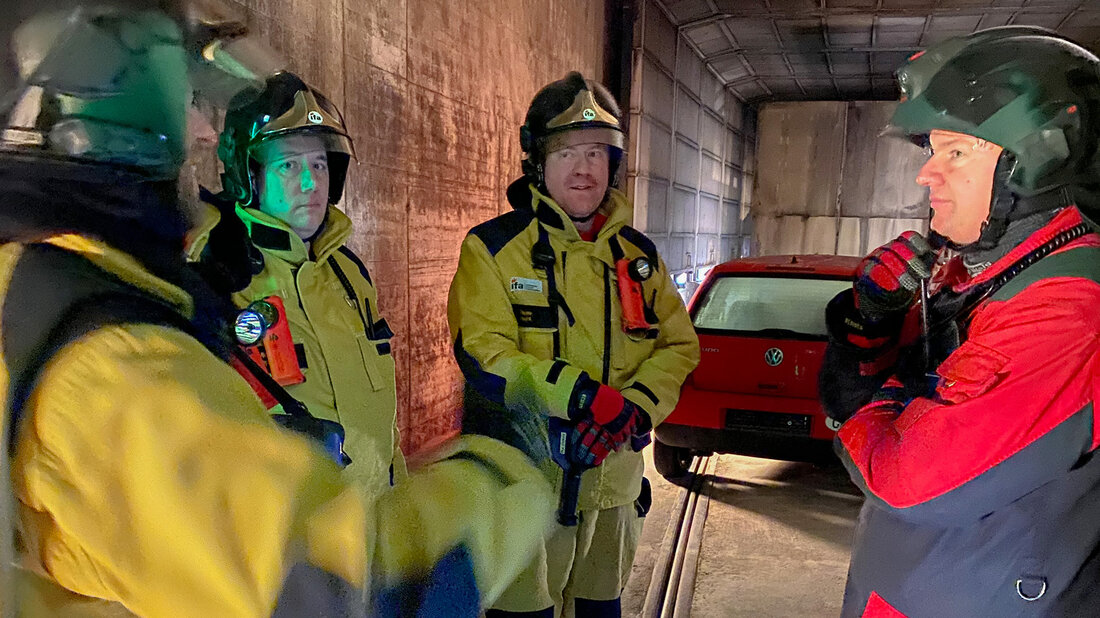 Time for reflection, background knowledge and practical tips
From the observations and the reflection of the training, topics for the qualification training are developed. At the QTC, there is time to explain the background details and to put details into the overall context. It also deals with innovations in the fire service world - this year, for example, the Methodology/Didactics Manual of the Swiss Fire Service Coordination, which is relevant for instruction and is binding throughout Switzerland. It is discussed what significance innovations have for the training at the International Fire Academy and whether adjustments are necessary. «Of course, we want to stay up-to-date,» explains Marianne Wernli, pointing to the basics of the new regulations: «Being open to new things is one of the central guiding principles in fire service training in Switzerland.»
Securing the knowledge lead
---
Another goal of the QTC is to systematically expand the background knowledge of the instructors so that they can also answer more far-reaching questions and explain correlations. Therefore, every QTC has a specialist programme. As far as possible, topics related to road and railway tunnels are taken up. This year, for example, an excursion took place to the third tube of the Belchen tunnel, the so-called A2 renovation tunnel Belchen, between Eptingen (canton Basel-Landschaft) and Hägendorf (canton Solothurn). «Afterwards we drove to Basel to the Swiss Federal Railways (SBB) emergency service department and had various safety devices and operational details on locomotives, as well as passenger coaches explained to us,» said Marianne Wernli.
Visiting the A2 renovation tunnel Belchen

Guided tour through the renovation tunnel

The new ventilation centre of the Belchen renovation tunnel.

Tour with representatives of the SBB emergency services

Explanations on safety-relevant installations of trains
Technology update and drawing course
Members of the international fire academy team also bring their expertise to the QTC. Technician Urs Meier explained details about how the fire scenes work. He gave tips on how to use a differentiated control to simultaneously reduce gas consumption and extend the duration of a training session.
Marcel Schleuniger, a full-time instructor, took care of a special part of didactics: At the request of several instructors, he gave a drawing course for visualisations on blackboards and whiteboards. Here, too, it became clear that often even small implementation tips are sufficient to consolidate the standards in training and to increase the quality.
Technology update on the fire scenes in the railway training tunnel by Urs Meier

Control of the fire scenes in the rail car

Results of the drawing course with Marcel Schleuniger