Our Interschutz programme for you
For more than 20 years, the International Fire Academy has focused on one topic: firefighting operations in tunnels and other underground transport systems. With its research, advice and training, it helps to ensure that fire services can be confident in their response to these rare incidents. Interschutz visitors can find out what it requires at stand A26 in hall 13. We are already looking forward to your visit.
Lots of know-how at the trade fair stand
---
Our most important «product», with which we travel to Hanover, is our experience and knowledge gained from working with hundreds of fire services. We use all the personal contacts to find out what works in the field, which problems are still unsolved and how individual fire services have overcome particular challenges.
Visitors to our stand can benefit from our know-how in various ways:
answers to many questions about preparing for tunnel operations
introduction on how to use search sticks
our new leaflet «Operations in underground car parks» for every visitor
our specialist publications for viewing
our guide «Approaches to training»
We present our trade fair offer to you in the following.
Understanding tunnels and identifying the challenges
---
Every tunnel is different and requires the development of an individual intervention concept. This requires a basic understanding of tunnels and the particular hazards during firefighting operations. Our Road and Railway firefighting procedures already provide a lot of information on the necessary operation preparation. However, many questions can still only be discussed based on the respective tunnel. Therefore, our experts will be happy to provide you with competent initial information at our Interschutz stand and help you better understand tunnels in general on the one hand and identify the challenges associated with the respective tunnel system on the other.
New ideas for operational preparation
During the Interschutz, visitors can hold technical discussions with our experts at three consultation tables, be it in German, English, French or Italian. Our experience shows: Usually, an initial exchange of maybe 15 minutes is enough to analyse the situation and discuss a possible way forward. It is not unusual for our discussion partners to go home with new important questions that they had previously overlooked, but usually also with many new ideas.
Try out working with the search stick yourself
---
The search stick is one of the tools that the International Fire Academy has introduced for tunnel operations. With it, large areas can be searched quickly and effortlessly. Since then, the search stick has also proven its worth finding persons in many other operations. At the stand, visitors can try out how quickly the handling can be learned and how significant the information is that is perceived via the search stick tip.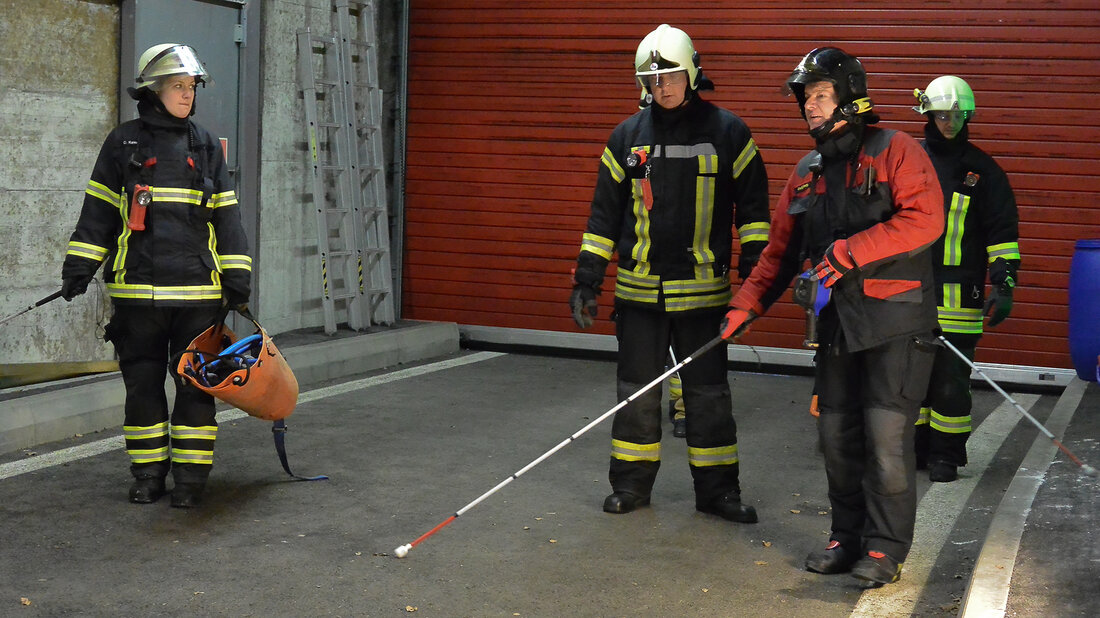 The International Fire Academy has further developed the search stick for firefighting operations together with the manufacturer. The experience gained from the realistic training in the training tunnels was decisive in this respect. The 152 cm long search stick weighs 360 g and measures only 31 cm when folded. It can be easily transported and is ready for use in no time.
Leaflet «Operations in underground car parks» for every visitor
---
All visitors to the stand will receive the leaflet «Operations in underground car parks» developed this year. It was created to complement our new one-day Intensive course in underground car parks, which we offer both for Swiss fire services and for foreign fire services as a supplement to training on the training tunnel facilities. The leaflet contains very condensed basic knowledge about the underground car parks in general and the tactical approach.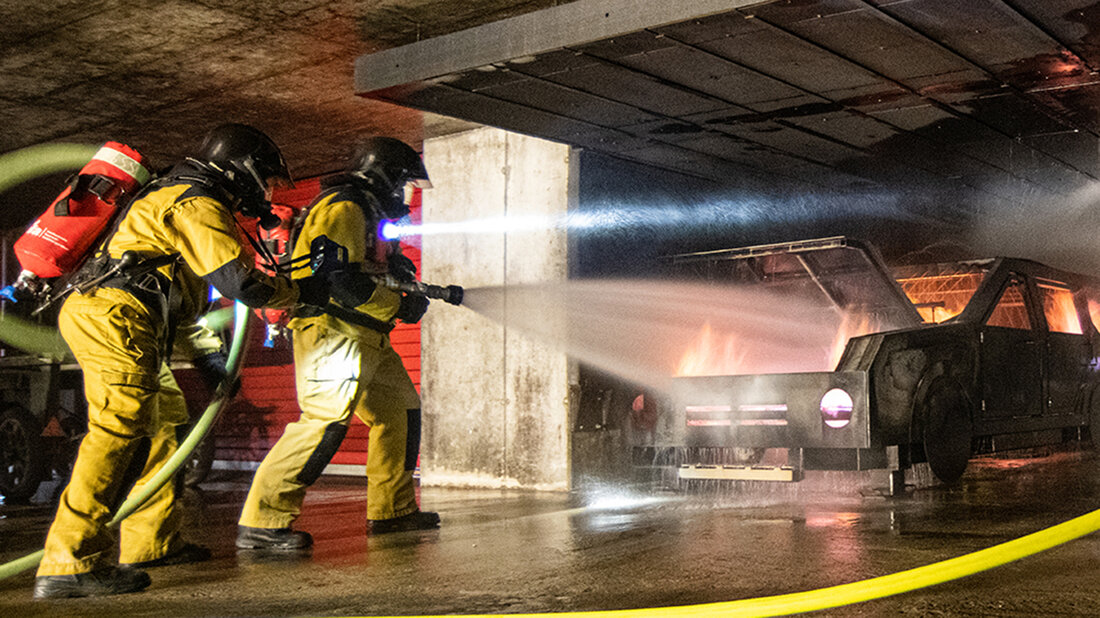 All specialist publications of the International Fire Academy can be viewed at the exhibition stand. The textbooks «Firefighting Operations in Road Tunnels» and «Firefighting Operations in Railway Tunnels» are available in German, English and French. All leaflets are additionally translated into Italian. An anniversary photo book documents the diversity of the training situations.
How to get trained at the International Fire Academy
---
The International Fire Academy publishes its guide «Wege zur Ausbildung» («Approaches to get trained») in the form of a leaflet on the occasion of the Interschutz. The guide illustrates in a simple way what preparatory work fire services need to do in order to be prepared for incidents in tunnels. It clarifies which questions fire services must clarify themselves and how the experts of the International Fire Academy can actively support them.
As part of the training consultation, we will show you how we can work with you to develop a tailor-made training offer. We will be happy to hand over the guide to you at our exhibition stand A26 in Hall 13.