For most operations in road tunnels, the fire services can drive their vehicles directly to the incident scene. On the other hand, in most railway tunnels, this is only possible with special vehicles, for example, fire and rescue trains or road-rail vehicles that can travel on roads and on rails. This article provides an overview of the most important vehicle types and their tactical advantages and disadvantages.
Rail, road or both
---
Firefighting vehicles for operations in railway tunnels can be divided into three categories:
road vehicles
rail-bound vehicles
road-rail vehicles
Road vehicles are understood here as the standard emergency vehicles of the fire services. With them, the portals and side accesses can only be reached on roads, paved paths or - with all-terrain vehicles - to a certain extent also cross-country. Driving into the tunnel is only possible if it is equipped with a so-called slab track.
Rail tunnels with a ballast track can only be used by rail vehicles or road-rail vehicles that can travel on roads as well as on rails.
Slab track in the 7.4 km long Silberberg Tunnel in Thuringia

Portal without direct access for road vehicles at the north ramp of the Gotthard summit line

Portal of the Adler Railway Tunnel (Canton Basel-Landschaft) with direct access for road vehicles
Fire and rescue trains (FRT)
---
The best-known example of rail-bound fire service vehicles are the fire and rescue trains. They are composed of vehicles with their own diesel drive and wagons without propulsion. A typical configuration consists, for example, of a rescue vehicle, a firefighting tank vehicle and an equipment vehicle.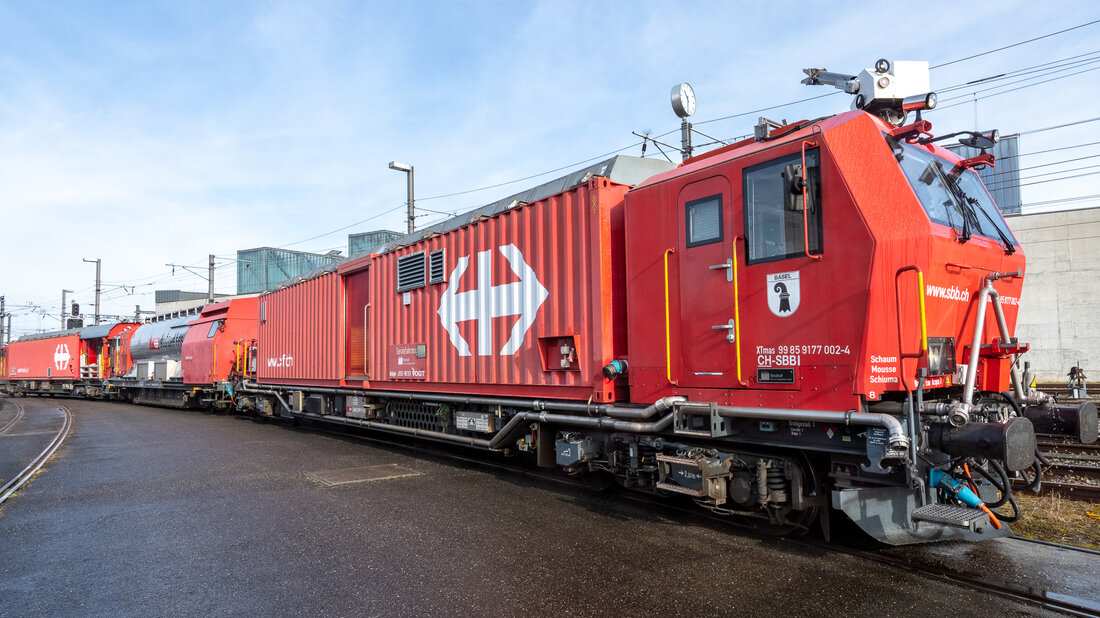 Rescue vehicles of an FRT serve, on the one hand, to transport emergency personnel into the tunnel and are equipped accordingly with breathing apparatus, turnout gear, radio equipment etc. On the other hand, they provide the most important basic functions of a rescue transport vehicle, enabling immediate life-saving measures and the transport of up to nine lying patients. In total, rescue vehicles can accommodate up to 80 people, depending on the type.
Elements of a fire and rescue train (top-to-bottom): rescue vehicle, firefighting tank vehicle (with driver's cab but without its own propulsion), equipment vehicle

Positive pressure ventilated room of a rescue vehicle: On the left, equipment for emergency personnel, on the right, racks for transporting patients on a stretcher.
The equipment vehicle of an FRT corresponds in principle to a pioneer or a technical rescue vehicle of the fire services. It contains machines and tools for interventions on railway systems, such as rescue saws, hydraulic rescue equipment, rerailing equipment or special couplings for towing damaged rail vehicles. Heavy equipment can be lifted up and down with a crane.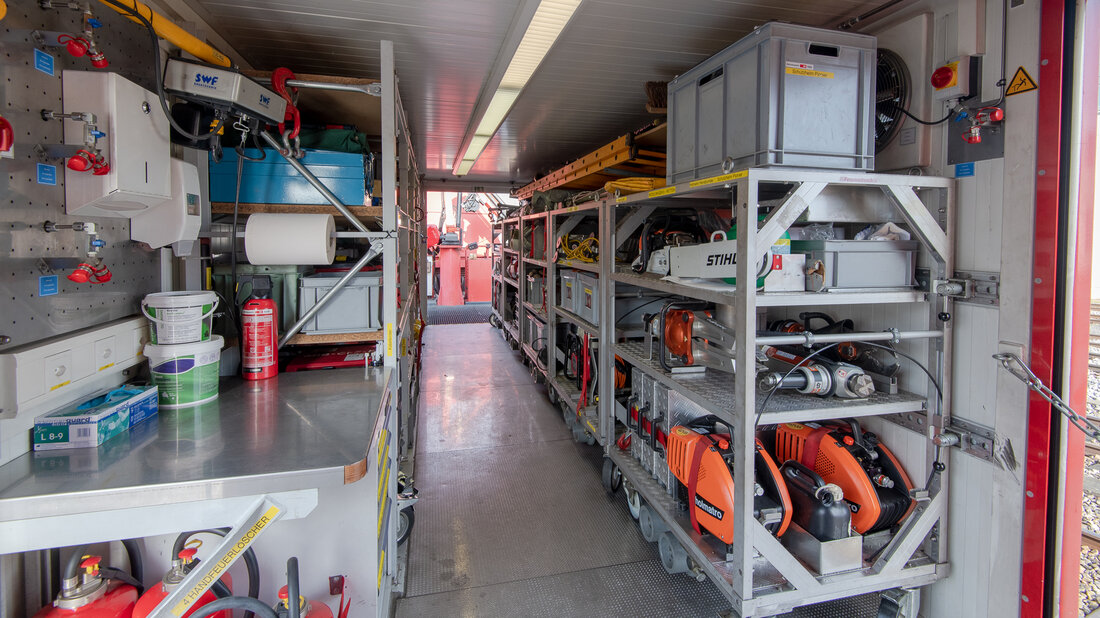 Depending on the type, the firefighting tank vehicle of an FRT carries up to 52 000 l of water and 1 800 l of foaming agent as well as around 1 000 m of hoses. Outdoors, throwing distances of up to 70 m can be achieved with the deluge gun on the vehicle's roof.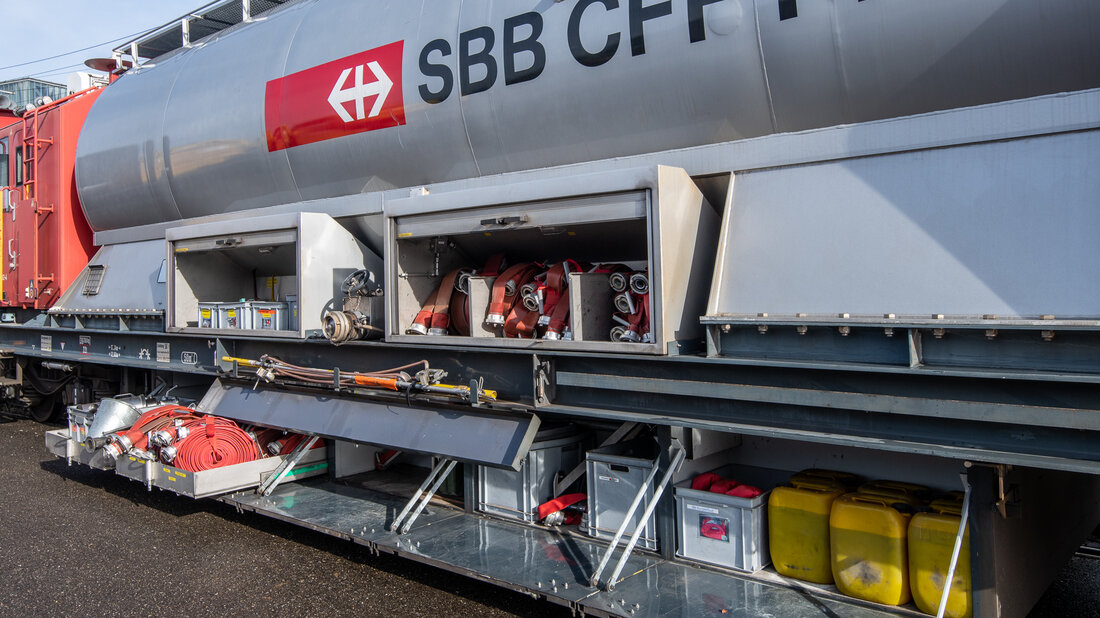 Road-rail vehicle
---
Road-rail vehicles can travel both on roads and on rails, whereby two techniques are used. Either the rubber tyres of the road-rail vehicle run on the railway tracks, and a guide mechanism keeps the vehicle on track. Alternatively, rail wheelsets can be extended hydraulically with their own propulsion.
Demonstration of a road-rail vehicle running with the rubber wheels on the railway tracks and steered by a track guiding mechanism.

Track guidance mechanism of a road-rail vehicle

Road-rail vehicle of the Rhaetian Railway with hydraulically lowerable rail wheelsets

Close-up of an extended rail wheelset

The wheelset of a road-rail vehicle with a drive unit
Road-rail vehicles are in operation in a wide range of variants. Some are equipped with crew cabins, and others are primarily used to transport equipment. For this purpose, modular carts are often used, which are themselves road-rail vehicles. The modular carts can be pushed over roads and paths by running on rubber wheels. However, a rail wheelset can also be mounted in a few simple steps.
Crew cabin of a road-rail vehicle

Loading space of a road-rail vehicle with a tail lift platform and a modular cart that can be placed on rails.
Special single-track points are required for rerailing the road-rail vehicles, but level crossings are also suitable, for example. And finally: Road-rail vehicles may only be driven on rails by those who have completed appropriate licensed training as a rail vehicle drivers. The specific requirements are defined by the respective supervisory authorities.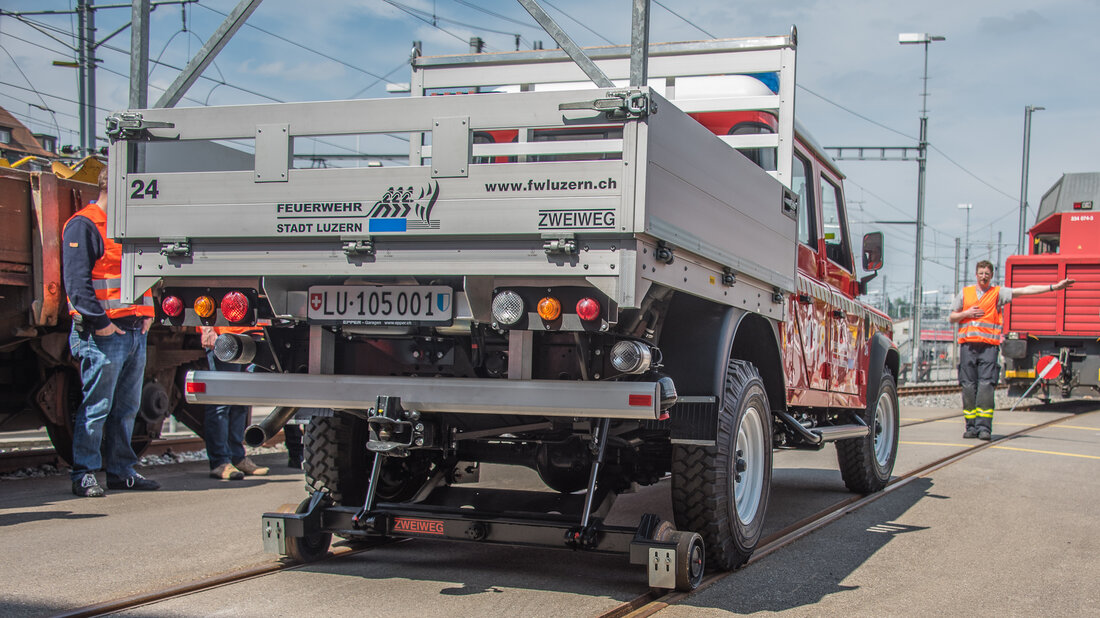 The crucial factor is the secured space
---
The primary use of the vehicles shown above is to be able to bring people and resources quickly to the scene of an emergency in the railway tunnel, even over very long distances. From a tactical point of view, the main difference between the vehicles mentioned is the secured space. It is achieved by positive pressure ventilated vehicle spaces into which no smoke can penetrate.
Such a secured space is available, e.g. on the rescue vehicles of the fire and rescue trains and their driver's cabs. Such vehicles with a secured space can – as far as visibility conditions permit – also drive through smoke in the direction of the fire. This shortens the footpath of the firefighters using breathing apparatus from the secured space to the scene of the incident and increases the overall penetration depth that can be achieved. And vice versa: The closer the secured space can be brought to the scene, the faster people to be rescued can be transported to safety.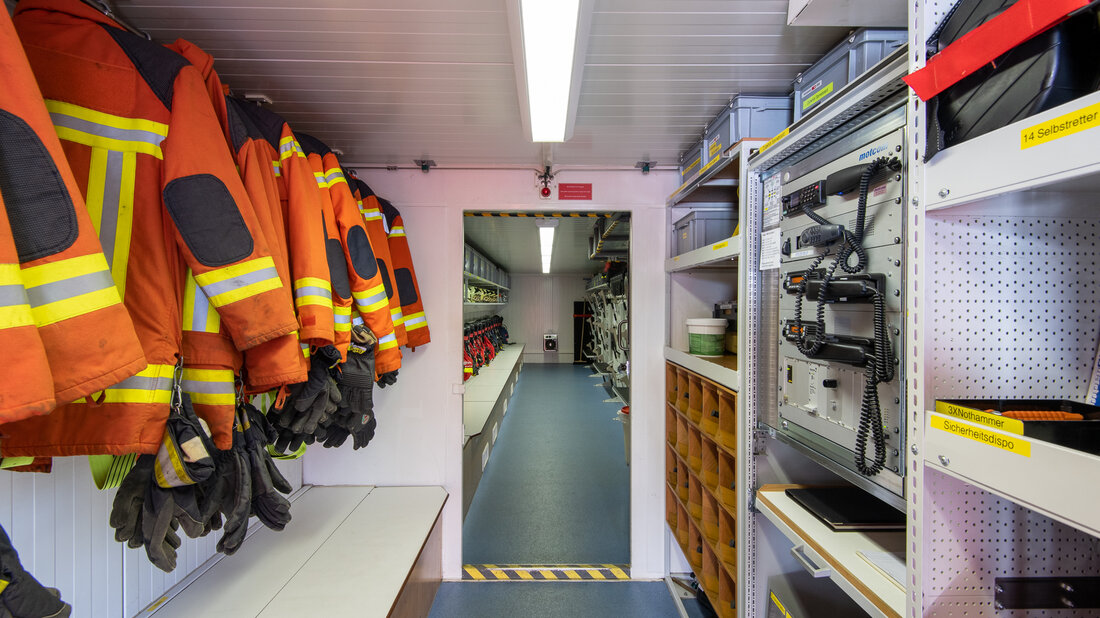 Most road-rail vehicles do not yet have such a secured space. Therefore, these vehicles are not suitable for increasing the effective penetration depth. When driving through smoke, the vehicle crew must wear breathing protection, consuming air. And when approaching on the upstream side, it must be ensured that the breathing apparatus wearers also have sufficient air for their return journey on foot to the next possible safe area, e.g. the portal or an emergency exit. Nevertheless, road-rail vehicles without a secured space are also extremely helpful when a lot of heavy material has to be transported over long distances in the tunnel.
As well as
---
An innovative approach is followed by the rescue vehicles of the Matterhorn Gotthard Railway, which went into operation in 2020. They consist of a combination of rail-bound and road-rail vehicles: a road-rail passenger transport vehicle, a rail-bound medical vehicle and a road-rail firefighting vehicle. Thanks to a positive pressure air system and secured spaces, such a configuration can accommodate up to 60 people. These vehicles are not only used in tunnels but also in other areas of the railway lines that are difficult to access.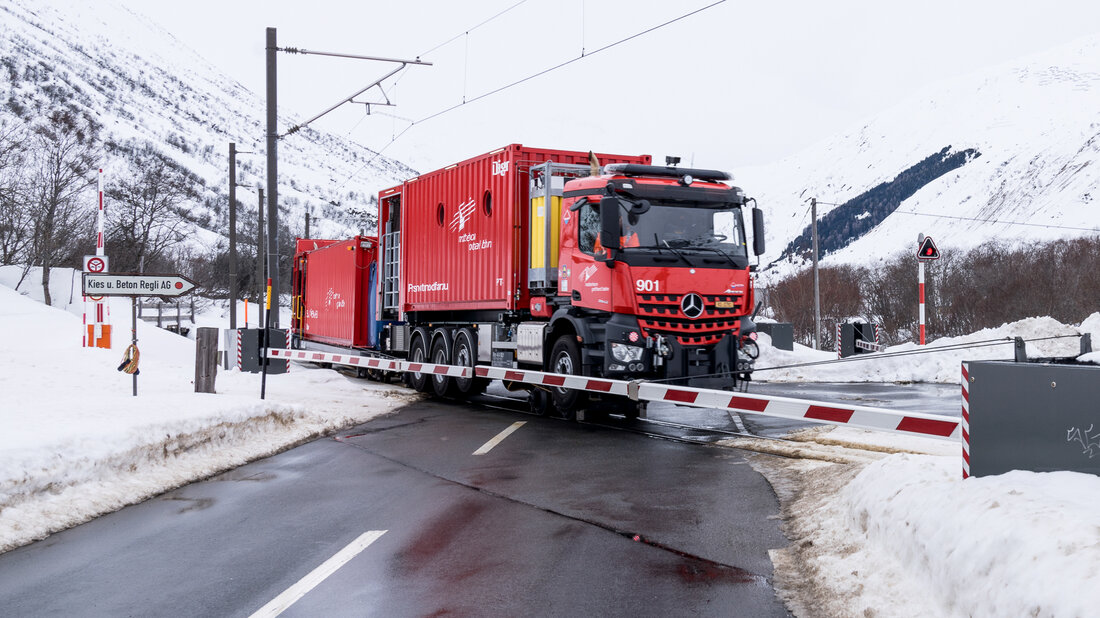 Other means of transport
---
Have you had any experience with other means of transport for tunnel operations? We would be pleased if you would report to us. Please write to us about your sightings and experiences with other means of transport to contact(at)ifa-swiss.ch. We look forward to your feedback.