Postponed twice - then the Interschutz finally got underway again. We were able to build on our attendance in 2015 and reached our target audience in Hannover again this year: Fire service supervisors, builders of tunnel facilities and other contacts for preparing for operations in underground transport systems.
Well attended: Speeches in the Interschutz Forum
---
On the very first day of the trade fair, Marianne Wernli, Head of Training, ensured a successful start in the Interschutz Forum. For the first time, we were invited to participate with two contributions in the very well-organised specialist event in Hall 26. More than 120 listeners were present when Marianne Wernli gave a talk on «Extinguish in order to rescue! Tactical principles for firefighting in railway and road tunnels» and afterwards answered the moderator's questions.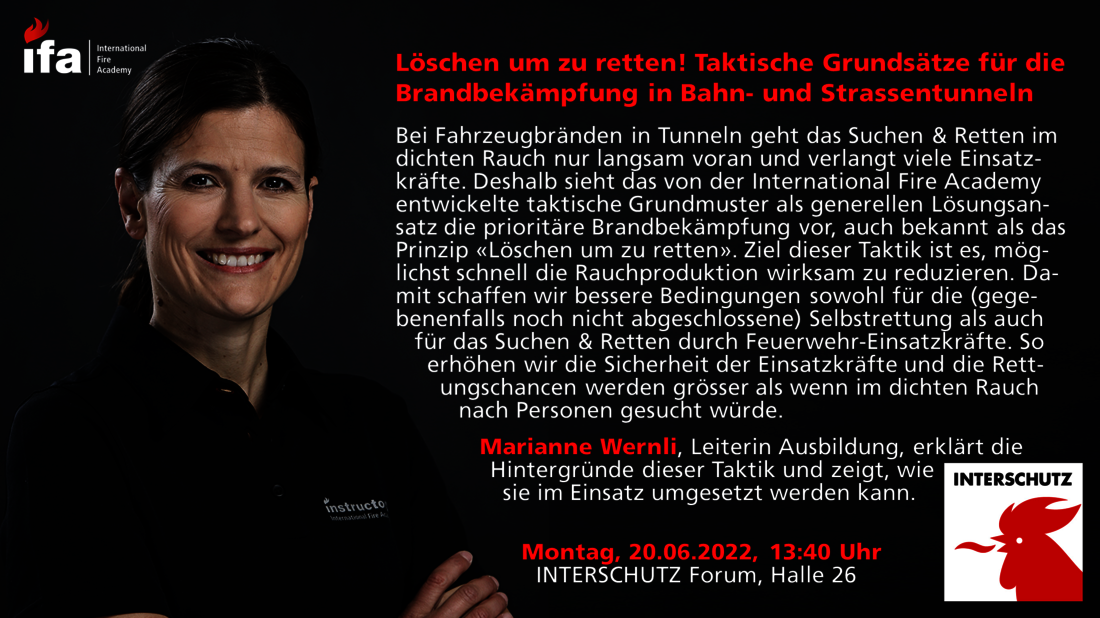 On the second day of the trade fair, Markus Vogt drew attention in the Forum on the controversial topic of operational limits and his talk on «Self-protection during breathing apparatus operations with penetration depths of more than 500 m». This contribution also sparked great interest.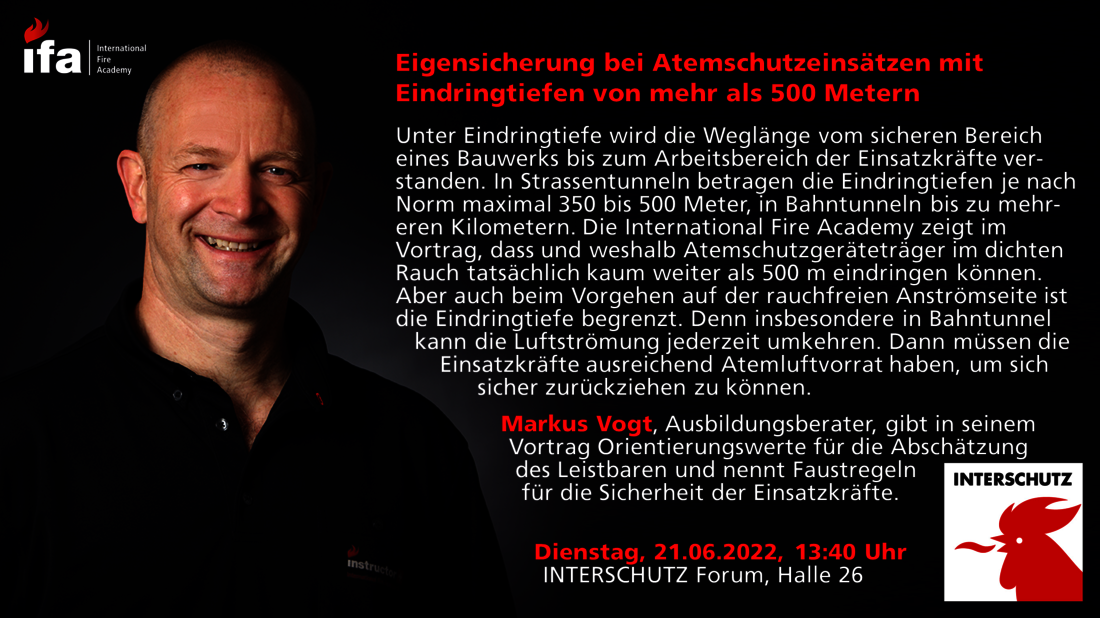 The network expanded internationally
---
We were happy to see many fellow firefighters again. The discussions yielded interesting updates on the status of tunnel projects, training and operations. However, many trade visitors came to our stand for the first time. We had the opportunity to talk in-depth with representatives of the London Fire Brigade. Coincidentally, at the same time, two delegations from Iceland informed themselves about training opportunities. Guests from Indonesia and India sought exchanges on how to make our know-how available to fire services in their countries - to name just a few examples of many new international contacts.
Our instructors, Thomas Luder, Marcel Schleuniger and Sandro Stramonio (from left to right), are ready for the visitors' questions.

In addition to the specialist exchange, the search stick course attracted great interest at the trade fair stand

Andreas Schneider, Deputy Head of Training (in the foreground right), and Markus Burger, Head of Operations (in the background right), talking to customers.
Builders seek discussions on firefighting operations
---
Not only fire service members came to us for information, but also builders of large tunnel construction projects. From our point of view, this is a significant development that shows: Even outside of the fire service community, the importance of specialised know-how for planning firefighting operations in the construction phase and for later operations is recognised. In discussions on firefighting operations, we presented our possibilities to support the development of intervention concepts.

Offers on the subject of underground car parks
---
We received a lot of feedback on our new intensive underground parking course. Two different needs became clear:
an underground car park course combined with training on the training tunnel facilities and
the participation of individual fire service members in an openly advertised course.
We will take both into account in our planning for 2023.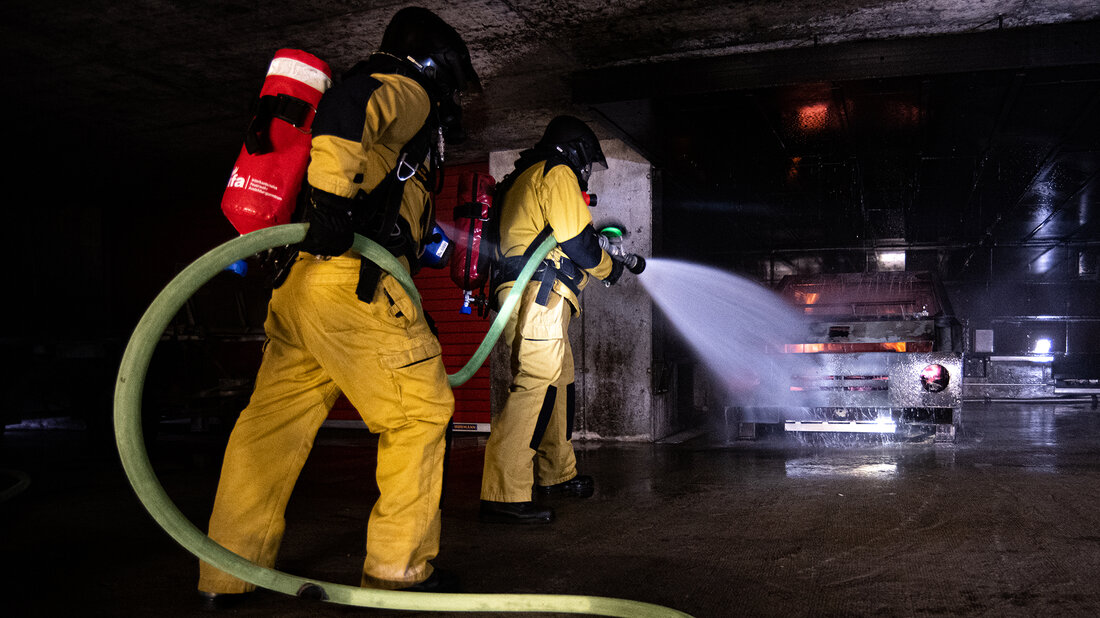 Digitisation - at the right time in the right amount
---
Digitalisation was a trendy topic at the Interschutz. For us, however, digital developments in training currently play a subordinate role - with the exception of virtual learning environments. In doing so, we are guided by one central criterion, among others: Can training participants interact as a team under conditions that are as realistic as possible. Augmented reality offers promising approaches to this. However, there are still restrictions at the moment - for example, compatibility with SCBAs - so we are monitoring further developments.
If you want to keep up to date with developments at the International Fire Academy, we recommend our ifaNEWS. Sign up now.